This website is about a special service; our camping event arranged inside the Yala National Park.
We wish to make clear what it is – and what it is not … For that reason we provide quite a bit of information in order to outline our concept and equipment as well as the regulations and limitations we are working under.
Outside the boundary of the national park there is a great variety of excellent camp choices; even similar, super-luxury, lodge- and camp-style, 5-star, hotels.
We are definitely – not – one of those …
Organizing a camping safari inside Yala National Park is a great contrast to operating camp-style hotels or permanent camping facilities outside of the national park.  It makes no sense even to compare such different entities.
The only luxury is, … that it is possible …
Appreciating the experience quality of this tour depends on attitude and expectations.  A good place to start is to understand that it is actually camping – inside Yala National Park – with the involved limitations and regulations.
The camping stay in Yala is in quite basic tents with little conventional comfort.
The only amenity is the opportunity to experience the national park in a different way, actually staying overnight inside Yala, while the whole event is handled by our jungle team, bringing you as close to Yala's wild environment as possible.
Our adventure camping tour takes place in Yala National Park Block 1.
Start : At the main entrance office buildings
End  : At Palatupane, Yala National Park
After you meet us you are transferred in a jeep to the camping location in Yala.
A mobile camp event for one private party
This camping safari is a special event organized for one private party.

On the booking days we set up simple facilities for overnight stay in Yala.

The camp location is for your private use.

We accept bookings for a maximum of 5 or 6 guests and for a maximum of 3 nights.
An official permit is required
Since we use camping locations inside the national park it is required – for each booking – to obtain an official permit issued by the Department of Wildlife Conservation, Colombo head office. 
The permit work is part of our service and included in our rates.
Unpretentious lightweight camping kit
A 4 or 5 member team organizes the tour.  They will prepare the camp before arrival. After departure of guests the camp is quickly removed again.  The whole event is executed within the framework of national park camping regulations.
This is an unpretentious camping safari arranged on the days a booking is made for.
We use lightweight camp kit that enables us to swiftly set up and remove the camp, which is a condition for the ability to run the tour.  
All required equipment is transported in two jeeps only.
Things have to be quite simple. A basic set up is a must inside a national park, so we take pride in the fact that this is old-fashioned genuine camping. We don't boast of fancy folding chairs or smart furniture and tables – on the contrary we use easy-packing plastic furniture. 
Our service is referred to as 'wild camping'.  It means that camping locations are just designated wild places where camping is allowed with permits, restrictions and regulations.
These are not operated camping sites with any facilities but just small spots in the forest where simple camping is permitted.
All the camp locations have a small, shared, permanent toilet facility. A Sri Lankan style squatting type toilet. There is nothing else on the locations and any other facility has to be arranged by us.  We don't list the toilet under 'modern camp amenities' – but it's functional.
Number of persons is restricted
Another essential to underline is that a maximum of 10 persons are allowed to stay in the camp.
The maximum number of persons includes the staff team; a restriction that certainly marks one of the most important limitations for the scope of what we are able to do, offer and promise with regard to our level of ambitions with regard to services and facilities.
Our team members are all 'workers'
Given the 10 persons regulation every member of the 4 or 5 man camp team must be a 'worker'. 
Operationally we can't afford to operate with a two-layer staff concept with 'back-end' workers and specialized 'front-line' characters to socialize and take care of the clients. 
Each staff member is a worker – and a 'guest caretaker' as well; something that can also be claimed to require people who are specialists in their ways.
The team are authentic, locally recruited people
Don't expect that the camp staff team speak fluent English but they will be able to communicate in English at a basic level. This is natural camping with authentic locally recruited people.
This also applies to the chef – who is unlikely to be formally cooking trained or hotel school educated.  So, we are not intending to astonish you, with an 5-courses wine and dine dinner …   It doesn't matter – the rice and curry might come with 5 curries and it's going to be nicely fresh-cooked and tasty …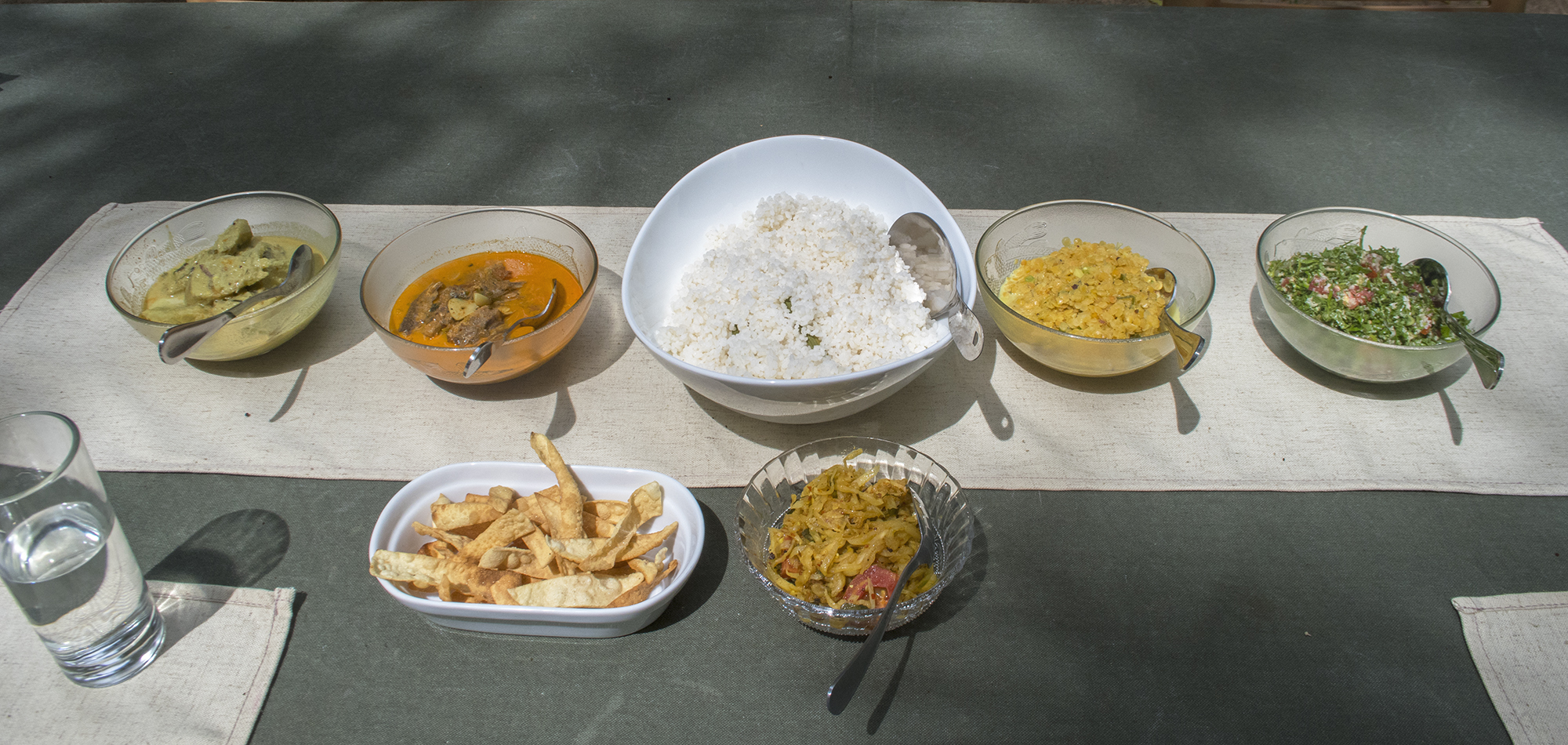 Any specialized naturalist guide?
Very talented nature guides are a common feature provided by numerous high-end safari hotels and camps. This service is not promised on the camping tour. The tour is more 'experiential' than 'educational' … Please understand and enjoy it that way.
The wild camping service is focused on the logistical work, organizing and managing the camping event to be an enjoyable experience; a good camping and safari experience, while caring for your needs.
We need to conduct the camping tour within the 10-persons restriction and there is no space for an English speaking nature guide and interpreter of the flora and fauna.
It is also not so important; – let the experience speak for itself as something real.
A specialized safari driver ?
Yes, the safari driver is a very essential team member.
Our safari driver is a specialist, highly experienced, eagle-eyed and talented.
As a driver safe and careful and we doubt you can get anyone better for safari drives in Yala.
In the photo: Danushka
Senior safari specialist at our camping tours and the operating company, Tree Tops Jungle Lodge.
Availability:    Initially we confirm our availability – As a Team

Let us know that you wish to confirm. 

An invoice will be sent listing agreed details and total rate.

We will let you know when to make the payment.
We can make a location reservation about 1.5 month prior to the tour dates.
We ask a full payment as soon as the location is formally reserved.
The payment by you is considered your confirmation. 
Our formal confirmation is sent after receiving payment.